Buttermilk Biscuits and Pepper Gravy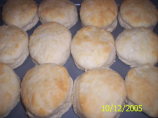 Photo by Chef shapeweaver �
Prep Time: 15 mins
Total Time: 45 mins
Serves: 6, Yield: 12 biscuits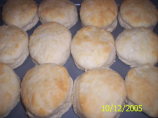 Photo by Chef shapeweaver �
About This Recipe
"Even though my mom came from "up north", she really could make great biscuits and gravy. It has taken me this long to get the so called "recipe" down. She never measured anything, and as such, I had to guess at how she made them. I think I finally figured it out. So here it is. I hope you enjoy it. Prep time includes 5 minutes sitting time if you have to make your own buttermilk. Posted on October 12th 2005."
Ingredients
2 1/2 cups self-rising flour

1/2 cup vegetable shortening

1 cup buttermilk ( if you don't have buttermilk,use 1 cup milk with 1 tablespoon lemon juice, let sit 5 minutes)

Pepper gravy

4 tablespoons vegetable shortening or 4 tablespoons same amount bacon grease

1/3 cup self-rising flour

2 cups milk

2 teaspoons salt ( to taste)

1 tablespoon ground black pepper ( to taste)
Directions
Pre-heat oven to 425°F.

In a medium sized bowl, add flour and shortening.

Cut in shortening until it looks like coarse breadcrumbs.

Add buttermilk and stir until soft dough forms.

Pour onto a board floured with 1/3 cup flour.

Roll into a ball and lightly knead for about 5 minutes.

Gently pat out dough until about 1/3 inch thick.

Using a 1 1/2 to 2 inch round biscuit cutter, cut out biscuits.

Re-knead remaining scraps to make more biscuits.

Place on ungreased cookie sheet, about an inch apart.

Bake at 425°F for 15 to 20 minutes or until desired color is reached.

For gravy:.

In a medium sized skillet, melt shortening until hot but not smoking.

Add 1/3 cup flour and stir until it looks like a paste.

Add 1/2 cup milk; stir until smooth.

Add rest of milk, stirring with wire whisk constantly until all lumps are gone.

Add salt and pepper to taste.

Turn off heat and let sit for 5 minutes to thicken.