Macadamia Butter Cookies With Dried Cranberries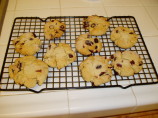 Photo by Morning Biscotti
Prep Time: 15 mins
Total Time: 25 mins
Servings: 30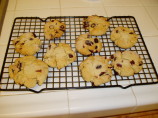 Photo by Morning Biscotti
About This Recipe
"I just tried this recipe from Cooking Light. This is one of my favourite cookies, Yumm. The macadamia butter makes it really rich and delicious. I chilled the dough in the freezer for 10 minutes before baking"
Ingredients
2/3 cup macadamia nuts

1/2 cup granulated sugar

1/2 cup packed light brown sugar

1 teaspoon vanilla extract

1 large egg

1 1/4 cups all-purpose flour

1/2 teaspoon baking soda

1/4 teaspoon salt

1/8 teaspoon ground nutmeg

1/2 cup dried sweetened cranberries, chopped

1 tablespoon granulated sugar
Directions
Preheat oven to 375°F.

Process nuts in a food processor until it forms a smooth buttery paste (2-3 minutes). Combine macadamia butter, granulated sugar, brown sugar, beat with a mixer at medium speed. Add vanilla and egg; beat well.

Combine flour, baking soda, salt and nutmeg; stir with a whisk. Beat slowly at low speed until just combined (mixture will be very thick).

Stir in cranberries.

Chill dough for 10 minutes.

Divide chilled dough into 30 equal portion, roll into a ball. Press each ball into sugar; place each ball, sugar side up, on baking sheet.

Gently press each cookie with fork, forming a criss-cross pattern.

Bake cookies for 9-12 minutes. Remove from pan and cool on a wire rack.