Lemon and Poppy Seed Melt Away Cookies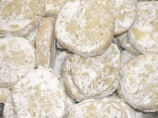 Photo by Karen=^..^=
Prep Time: 30 mins
Total Time: 4 hrs 30 mins
Servings: 36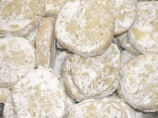 Photo by Karen=^..^=
About This Recipe
"As far as I can tell, this is quite different than other lemon and poppy seed cookie postings on zaar. Nice to serve at a holiday gathering. You can also freeze the cookies prior to coating in powdered sugar. Then when company is coming just thaw for about 15 minutes and coat in powdered sugar as directed. This recipe comes from Better Homes and Gardens Homemade Cookies book."
Ingredients
1/2 cup butter, softened

1/2 cup granulated sugar

1 tablespoon poppy seed

1/8 teaspoon baking soda

1 egg yolk

1 tablespoon milk

2 teaspoons finely shredded lemon peel

1/2 teaspoon vanilla

1 1/2 cups flour

1 cup sifted powdered sugar
Directions
In medium mixing bowl beat butter with electric mixer on medium to high for 30 seconds.

Add granulated sugar, poppy seeds, and baking soda and beat until combined.

Beat in egg yolk, milk, lemon peel, and vanilla until combined.

Beat in as much of flour as you can with electric mixer, then using wooden spoon, stir in any remaining flour.

Divide dough in half.

Shape each half into 9 inch long roll.

Wrap both "logs" in plastic wrap.

Chill in refrigerator for 4 or more hours (up to 24).

Using a sharp knife (or string/dental floss) cut dough into 1/2 inch slices.

Place slices 1 inch apart on ungreased baking sheet.

Bake at 375°F for 7-9 minutes or until edges are firm and bottom is light brown.

Place powdered sugar in plastic bag. While still warm transfer several cookies at a time to bag and shake gently until coated. Transfer to wire rack to cool completely. When completely cool, shake cookies in powdered sugar one more time.