Cinnamon Devil's Food Cupcakes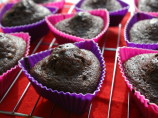 Photo by Redsie
Prep Time: 15 mins
Total Time: 40 mins
Yield: 40-45 cupcakes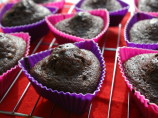 Photo by Redsie
About This Recipe
"This makes a huge amount of cupcakes, I am sure that you could freeze some and frost them later. I made these recently and baked them in fancy foil muffin liners, and took them to a senior's home, they were enjoyed by the residents and the staff, everyone wanted this recipe! I frosted these with my buttercream frosting, Kittencal's Bakery Buttercream Frosting/Icing with a teaspoon of almond extract added in to it but you can use your favorite frosting recipe to top these cupcakes"
Ingredients
2 2/3 cups all-purpose flour

1 1/2 cups cups unsweetened cocoa powder

1 tablespoon cinnamon

2 teaspoons baking powder

1 1/2 teaspoons salt

1 teaspoon baking soda

3 1/2 cups sugar

1 1/4 cups freshly brewed coffee, cooled to room temperature

1 1/4 cups buttermilk

3/4 cup oil

2 large eggs

2 large egg yolks

1 tablespoon vanilla

1 1/2 cups miniature semisweet chocolate chips
Directions
Set oven to 325 degrees.

Prepare regular muffin tins and line with paper liners.

In a bowl sift together flour, cocoa, cinnamon, baking powder, baking soda and salt.

In a extra large bowl combine sugar, coffee, buttermilk, oil, eggs, egg yolks and vanilla; beat well with an electric mixer until thoroughly combined (about 2-3 minutes).

Add in the dry ingredients; beat on medium speed until blended, scraping bowl occasionally (about 4 minutes).

Stir in the mini chocolate chips.

Spoon the batter evenly between the prepared muffin tins.

Bake for about 20-25 minutes, or until puffed and the center is just firm to the touch.

Transfer the cupcakes to racks and cool completely before frosting.