Beer-Battered Fish With Tartar Sauce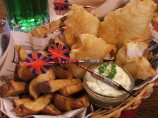 Photo by Wildflour
Prep Time: 15 mins
Total Time: 30 mins
Servings: 4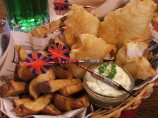 Photo by Wildflour
About This Recipe
"One of the things that sticks out most in my mind about my last trip to Ireland is how incredibly good the fish and chips are. They were served in a newspaper cone that was stuffed with waffle fries and fish. This recipe brings back those fond memories. the secret for a crackling crisp coating is to fry fish in small batches. Too many pieces will cool the oil, and the fish will be soggy and greasy. Serve with your favorite chips. The Cod Clan: Atlantic pollack, haddock, and hake are among the members of the extensive cod family. Although these fish vary slightly in terms of texture and flavor, one can generally be substituted for another. Small cod are often called scrod and can certainly be used here. Beer is your best bet to accompany this recipe. If you opt to drink wine, look for one that will mimic beer's palate-cleansing qualities. Try a reasonably priced sparkling wine or an acidic white such as a pinot grigio from Italy."
Ingredients
Tartar Sauce

1 cup mayonnaise

1 tablespoon Dijon mustard

1 scallion, including green top chopped

1 1/2 teaspoons lemon juice

2 tablespoons chopped dilled gherkins

1 tablespoon chopped capers

2 tablespoons chopped fresh parsley

salt

fresh ground black pepper

Fish

cooking oil, for frying ( approximately 1 quart)

1 cup flour

1 egg, beaten to mix

1 cup beer

2 lbs cod fish fillets or 2 lbs haddock or 2 lbs hake, cut into approximately 1 1/2-by-3-inch pieces
Directions
Combine all the tartar sauce ingredients in a bowl with a pinch each of salt and pepper. Set aside.

Heat the oven to 200°. Cover a cookie sheet with paper towels and top with a wire rack.

Heat about 3" of oil to approximately 365° in a medium sized pot.

Meanwhile, mix flour with 1/2 teaspoon salt. Whisk in egg. Slowly add the beer while whisking.

Dip fish pieces in the batter and place on plate or the wire rack you will be using to drain the fried fish. I usually double dip in the batter if I have some left over once the batter dries on the awaiting fish.

Place fish pieces, two at a time in the oil. Cook until the fish is done and the crust is lightly golden, about 4 minutes for 3/4-inch thick fillets.

Remove fish with tongs and put on rack to drain. Sprinkle salt over the hot fish and put the baking sheet in the oven.

Repeat in batches with the remaining fish.

Serve with the tartar sauce.