Speckled Sweet Potato Mash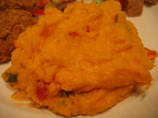 Photo by Annisette
Prep Time: 35 mins
Total Time: 35 mins
Servings: 2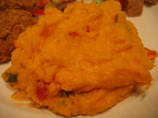 Photo by Annisette
About This Recipe
"I must admit, I find it really hard to make anything without chilies and garlic, which is probably why I don't make many desserts really. This is a great spicy, savoury mash, and it isn't too bad fat-wise either. Use a flavoured cream cheese or greek yogurt if you prefer"
Ingredients
400 g sweet potatoes, peeled

1 red bell pepper, halved and deseeded

1 green chili pepper, deseeded and chopped

4 garlic cloves, peeled

1/2 tablespoon olive oil

2 -4 tablespoons fat free cream cheese

2 -4 tablespoons nonfat milk

2 -3 tablespoons chopped coriander leaves

salt & freshly ground black pepper
Directions
Roast the red pepper in a hot (220C) oven for approximately 30-minutes until skin is blackened.

Cool for a few minutes, peel and chop flesh into small dice.

Meanwhile, chop the sweet potatoes into large chunks and boil with the garlic cloves for approximately 15-20 minutes until tender.

Heat olive oil in a small pan and fry chili for 3-4 minutes over a low heat. Stir in chopped red pepper.

Drain sweet potato and garlic and mash with 2 tbsp cream cheese and milk, adding more if needed.

Stir red pepper, chili and coriander into mash. Add salt and black pepper to taste.