Sausage and Egg Breakfast Pizza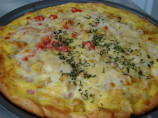 Photo by pattikay in L.A.
Prep Time: 2 mins
Total Time: 4 mins
Serves: 8, Yield: 1 pizza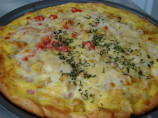 Photo by pattikay in L.A.
Ingredients
1 (8 ounce) packages pork sausage

1 (8 1/2 ounce) packages refrigerated crescent dinner rolls

1 cup frozen cubed hash brown potatoes, thawed

3 tablespoons red peppers, and yellow diced

1 small tomatoes, chopped

1 cup monterey jack cheese, shredded

3 eggs, lightly beaten

3 tablespoons milk

1/2 teaspoon salt

1 teaspoon black pepper

2 tablespoons parmesan cheese, grated

1 tablespoon cilantro, chopped
Directions
Preheat oven to 375°. In large skillet, cook sausage over medium to high heat, stirring frequently until no longer pink.

Separate crescent rolls into eight triangles. Place in ungreased 12-inch rimmed pizza pan with points towards the center. Press together, seal perforations and form a circle 1-inch larger in diameter than pan bottom. Turn edges under to make a slight rim.

Sprinkle cooked sausage over crust. Top with potato cubes. Add red and yellow peppers, and tomatoes if desired. Sprinkle with Monterey Jack cheese. Stir beaten eggs, milk, salt, and pepper in small bowl; pour evenly over pizza. Sprinkle with Parmesan cheese and cilantro.

Bake 20 minutes or until eggs are set and crust is golden.