Kittencal's Onion Patties/Latkes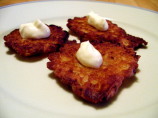 Photo by Mrs Goodall
Prep Time: 20 mins
Total Time: 20 mins
Servings: 3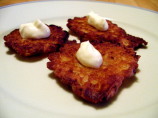 Photo by Mrs Goodall
About This Recipe
"I have been making these for over 20 years, I usually get about 15 patties but it depends on the size of the batter that you drop in the pan, these are better if fried to very brown and crispy, you can make a double recipe, fry them then freeze them on a tray then pop them into freezer bags, then just warm them in the oven to crisp up, they are very addicting and I can tell you I eat half before they even get to the table lol! If you plan on doubling the recipe then make two separate recipes in two bowls, I have doubled the recipe into one bowl and for some reason they just are not as good --- if desired you could add in a slightly beaten large egg and reduce the milk by 1/4 cup --- you will *love* these! also see my Kittencal's Crispy Potato and Green Onion Pancakes (Latkes) *and* Kittencal's Italian Zucchini-Mozzarella Patties"
Ingredients
2 1/2 cups onions, finely diced ( I just chop about 3 medium onions for this)

1 green onion, finely chopped (optional)

3/4 cup flour

1 1/2 tablespoons sugar

2 teaspoons baking powder

1 1/2 teaspoons seasoning salt ( can use regular salt)

1/8 teaspoon cayenne pepper

1/2 teaspoon garlic powder ( optional, or use 2-3 teaspoons fresh garlic)

black pepper (optional)

3/4 cup milk

oil ( for frying, I recommend to use vegetable oil olive oil will interact with the flavor)
Directions
Chop the onions finely (I chop them about 1/4-inch) then place into a bowl.

In another large bowl mix together the flour, sugar, baking powder, seasoning salt, cayenne, garlic powder (if using) and a small amount of black pepper; mix to combine well.

Add in the milk and whisk until thoroughly combined (the batter will be thick!).

Add in the chopped onions and green onions and mix with a wooden spoon until combined.

In a large non-stick frypan, heat a small amount of oil to medium-hot, adding in more oil as needed as the patties will absorb too much oil if you add in a large amount of oil at one time.

Drop the batter from a tablespoon (no more than about a tablespoon!) into about 1/2-inch of hot oil (I slide the batter off using off another spoon).

Flatten slightly with the spoon or spatula.

Sprinkle with a little salt.

Fry until crispy and brown on both sides.

**NOTE** these tend to hold a bit of oil so drain well on paper towels.