Poached Salmon with Pine Nuts and Sun-Dried Tomatoes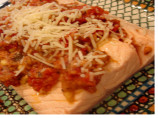 Photo by Bev
Prep Time: 15 mins
Total Time: 30 mins
Servings: 4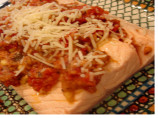 Photo by Bev
About This Recipe
"This is from the December 2001 issue of Shape magazine."
Ingredients
cooking spray

2 cloves garlic, minced

1/4 cup dry breadcrumbs

2 tablespoons chopped pine nuts

2 cups diced fresh tomatoes

1 cup drained and chopped sun-dried tomato

2 tablespoons grated parmesan cheese

1/4 cup chopped fresh basil

1 pinch sea salt

fresh ground pepper

1 tablespoon lemon juice

1 bay leaf

4 (3 ounce) salmon fillets
Directions
Coat a large skillet with non-stick spray and cook the garlic over low heat for 30 seconds.

Stir in the breadcrumbs and pine nuts, tossing continuously for 2 minutes, or until lightly toasted.

Turn off the heat.

Stir in the tomatoes, cheese and basil.

Adjust seasoning to taste with sea salt and pepper.

Set aside.

Put about 4 cups of hot water, the lemon juice and bay leaf in a large skillet and bring to a boil.

Place the salmon fillets in the boiling water, reduce and heat to medium-low and simmer for 8 minutes, or until cooked through.

Add water if the fillets are not fully covered.

Drain.

Transfer the fillets to four plates and spoon 1 ½ tablespoons of the breadcrumb mixture on top of each serving.