Kachoomber {refreshing Tomato Salad}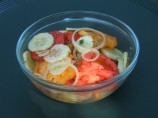 Photo by Ms*Bindy
Prep Time: 3 mins
Total Time: 8 mins
Servings: 4-6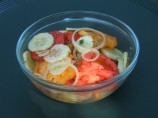 Photo by Ms*Bindy
About This Recipe
"This is a excellent Tomato Salad , Perfect for hot summer days with Grilled Dishes. You can vary this recipe , try finely sliced shallots for the onion or even lime juice for the lemon, or add a teaspoon of dijion-style mustard to the dressing.Make this salad just before serving.This Recipe came from a fab Book called "The Best of India""
Ingredients
1/2 teaspoon cumin seed

4 tablespoons olive oil

2 tablespoons red wine vinegar

1 tablespoon lemon juice

2 garlic cloves, minced

1 cup thinly sliced onion rings

4 medium ripe tomatoes, sliced

1 small cucumber, thinly sliced

1/2 teaspoon ground black pepper

1/2 teaspoon salt

5 large fresh mint leaves, finely chopped
Directions
Heat a small skillet over med-high heat.

add the cummin seeds and toast stirring constanly for 20-30 seconds.

Transfer to a plate and allow to cool.

In a large salad bowl, whisk the oil, vinegar ,and lemon juice until blended.

add the garlic, onion, tomatoes, cucumber, pepper and salt to taste: toss very well.

Sprinkle with the cumin seeds and mint, toss well, toss again, and serve.