Kittencal's Marinara Pasta Sauce (Vegetarian)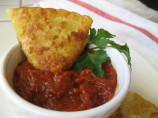 Photo by juliadjulie
Prep Time: 15 mins
Total Time: 1 hr 15 mins
Servings: 4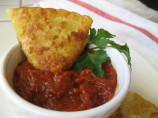 Photo by juliadjulie
About This Recipe
"This is a basic simple marinara but big on flavor, it can be ready in 1 hour or you can cook it longer and even tastes better the next day that is why I strongly suggest to make this sauce 1-3 days ahead and refrigerate as the flavors will blend and intensify ---this freezes well so make a double recipe and freeze a batch for the next meal, you may omit the wine but I strongly suggest to add it in, it really adds flavor to the sauce --- please make certain to purchase only good-quality canned Italian Roma (plum) tomatoes for this it will make a huge difference to the flavor of the sauce --- all ingredients may be adjusted to suit taste, this sauce can also be simmered for a longer time in a crockpot, throw in some fresh mushrooms also if desired --- also see my Kittencal's Italian Tomato Pasta Sauce and Parmesan Meatballs"
Ingredients
3 -4 tablespoons olive oil ( I use enough oil to lightly coat the bottom of my pot)

1 large onion, chopped

4 -6 garlic cloves, minced ( or to taste, the more the better I use 6 extra large cloves)

1 tablespoon dried basil ( rubbed between fingers to release flavor)

2 teaspoons dried oregano ( rubbed between fingers to release flavor)

1/2 teaspoon crushed red pepper flakes ( optional or adjust to taste)

1 (6 ounce) cans tomato paste ( can use two cans for a thicker richer sauce if desired)

1 (28 ounce) cans whole roma tomatoes, undrained ( break up with a fork before cooking, go ahead and use two cans if desired!)

1/3-1/2 cup dry red wine ( you may omit if desired but good to add in, can use white wine)

2 teaspoons sugar ( optional or to taste)

1 teaspoon salt ( or to taste, a good tomato sauce needs lots so don't be shy with the salt)

fresh ground black pepper ( to taste)
Directions
In a heavy-bottomed stockpot or Dutch oven heat oil over medium-high heat.

Add in onions, garlic and dried red pepper flakes, basil and oregano; saute for about 3-4 minutes.

Add in the tomato paste and stir for 2-3 minutes.

Add in the Roma tomatoes with juice and wine; simmer uncovered over low heat for 1-2 hours (I usually cook it for at least a couple of hours) stirring occasionally.

Season with salt and pepper and add in sugar if desired.

**NOTE** if you prefer a thinner sauce, then add in some water.