Paul Prudhomme's Chicken Diane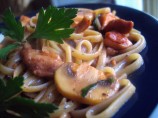 Photo by Juju Bee
Prep Time: 20 mins
Total Time: 40 mins
Servings: 3-4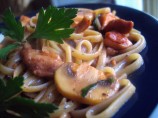 Photo by Juju Bee
About This Recipe
"This was one of my FAVORITE chicken dishes growing up. We didn't have it too often, (for health reasons :) but when we did I knew it was going to be a good night! If you can't find Paul Prudhomme's "Magic Cajun Spice" you can substitute his "Magic Poultry" or even "Magic for Veal or Pork", but the Cajun seasoning gives it a good kick! Also, we much more prefer boneless skinless thighs. In our family's opinion this dish is just not as flavorful with breast meat, but I left the recipe as it was written by Paul Prudhomme."
Ingredients
12 ounces boneless skinless chicken breasts, cut into strips ( *)

1/2 lb fresh mushrooms, sliced

6 ounces unsalted butter or 6 ounces margarine

1 tablespoon cajun magic poultry seasoning

2 teaspoons cajun magic poultry seasoning

1/4 cup green onion top, minced

3 tablespoons fresh parsley, minced

1 teaspoon fresh garlic, minced

1 cup chicken stock

6 ounces pasta, dry ( We like Fettuccine)

shrimp, may be substituted
Directions
Cook pasta and set aside.

Mash 1/3 of the butter or margarine and combine with seasoning and chicken.

Heat a skillet over a high fire until it's hot (about 4 minutes).

Add chicken pieces and brown them about 2 minutes on the first side and about 1 minute on the other.

Add mushrooms and cook 2 minutes.

Add green onions, parsley, garlic and stock.

Cook 2 more minutes or until the sauce is at a rolling boil.

Add remaining butter or margarine (cut into pats), stirring and shaking the pan to incorporate.

Cook for 3 minutes and add the cooked pasta.

Stir and shake the pan to mix well.

Serve immediately.