Roasted Prime Rib Bones or Beef Short Ribs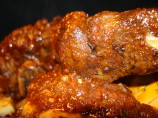 Photo by Vicki in CT
Prep Time: 20 mins
Total Time: 2 hrs 35 mins
Servings: 4-5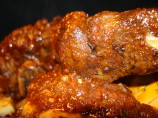 Photo by Vicki in CT
About This Recipe
"I have made this recipe many times using baby back pork ribs, the sauce from this is amazing, I have even added in a bottle of barbecue sauce in with the other ingredients! All ingredients can be doubled and adjusted to suit taste ---I most always serve these ribs with homemade fries or potato pancakes, see my Kittencal's Crispy Potato Pancakes --- If you prefer a more spicy sauce just increase the cayenne or add in some crushed chili peppers to taste --- make certain to roast the bones in the oven for about 45 minutes before cooking them in the sauce it improves the flavor."
Ingredients
6 -7 lbs beef bones ( prime rib roast bones)

seasoning salt ( do not use too much salt to season the ribs!)

pepper

1 teaspoon garlic powder ( optional or to taste)

1 -2 tablespoon minced fresh garlic

2 1/2 cups ketchup

1/2-3/4 cup cider vinegar ( can use white vinegar also or half and half)

1/4 cup sugar

1/3 cup brown sugar ( or to taste)

3 teaspoons chili powder

1/4 teaspoon cayenne pepper ( or to taste)

2 teaspoons mustard powder

2 large onions, coarsley chopped

salt and pepper
Directions
Prepare and grease a casserole or baking pan (large enough to hold ribs and sauce).

Season prime rib bones (baby back pork ribs if using) with seasoning salt, pepper and garlic powder.

Place the ribs in the casserole dish, and bake uncovered in a 350 degree oven for about 45-50 minutes; drain any fat.

In a bowl mix together the garlic, ketchup vineger, both sugars, chili powder, cayenne pepper and mustard powder; mix well to combine.

Add in chopped onions; mix well.

Pour the sauce over ribs, and mix with your hands to coat the ribs.

Bake uncovered for about 1 - 1-1/2 hours or until the beef (or pork) ribs are tender (baste occasionally, and season sauce salt and pepper if desired).

Delicious!