Provencal Pasta With Basil and Anchovy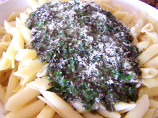 Photo by Rita~
Prep Time: 25 mins
Total Time: 25 mins
Servings: 6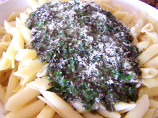 Photo by Rita~
About This Recipe
"This lovely dish -- Pates au Pistou a l'Anchois -- is by way of Richard Olney in "Lulu's Provencal Kitchen." It is a not uncommon way to serve pasta in the south of France where, as here in the States, most dried pasta is imported from Italy."
Ingredients
1/4 teaspoon coarse salt

1/4 teaspoon fresh coarse ground black pepper

3 garlic cloves, crushed and peeled

12 anchovy fillets, drained ( if using salt-packed anchovies, use 6 and split each one after saoking off the excess salt)

1 cup fresh basil leaf, packed

2/3 cup extra virgin olive oil

1 lb dry pasta ( penne, farfalle or the like)

freshly grated parmesan cheese
Directions
Bring a large pot of generously salted water to a full boil and add the pastam cooking tll al dente (for penne, about 12 minutes).

On a cutting board, sprinkle the crushed garlic cloves with the salt and pepper.

Using the back of a fork, mash the garlic into a paste.

Add the anchovies and keep mashing.

Scrape the paste into a mortar, add the basil, and begin pounding with a wooden pestle until the mixture resembles a puree.

Now, add the oil slowly, pounding all the while with your pestle.

Note: You can do this in a blender or food processor, but purists (like myself) will tell you that the pistou will not taste or look the same if the basil is chopped with a blade.

When your pasta is ready, place your serving bowl (heat-proof)in the sink.

Drain your pasta, allowing the pasta water to warm your serving bowl.

Place the pasta in the bowl, add the pistou and toss well.

Serve accompanied by freshly grated parmesan cheese.