Spicy Potatoes (Rasadar Aloo)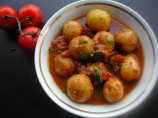 Photo by Kumquat the Cat's friend
Prep Time: 10 mins
Total Time: 30 mins
Servings: 2-4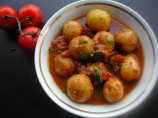 Photo by Kumquat the Cat's friend
About This Recipe
"This has to be just about my favourite Indian dish to make, and I make it a lot! It's also one of the few recipes that I make exactly as written! I sometimes vary the ingredients by substituting the potatoes with carrots and sweet potatoes (but then of course it's not Rasadar aloo anymore!), or by adding extra tomatoes. You may wish to use less oil, but the spice mix is perfect (and I never change it). If you've never used asafoetida before, don't be put off by the slightly strange smell; the results are worth it. This recipe comes from "The Complete Indian Cookbook", edited by Meera Budhwar and I'm posting the ingredients specified. You can easily scale the quantities up but I think this serves 2 as a main dish or 4 as a side dish."
Ingredients
1 1/2 lbs small potatoes ( as evenly sized as possible)

3 medium tomatoes ( skinned and chopped)

4 tablespoons oil

1 teaspoon cumin seed

1 pinch asafetida powder

3/4 teaspoon ground turmeric

1 teaspoon ground coriander

3/4 teaspoon chili powder

1 teaspoon paprika

1 teaspoon salt

1/2 pint water

1/2 teaspoon garam masala

2 tablespoons coriander leaves, chopped
Directions
Wash the potatoes and dry them, lightly peel the skins if necessary.

Heat the oil in a large saucepan, add the cumin seeds and asafetida and let them sizzle for a few seconds.

Add the tomatoes, turmeric, ground coriander, chilli, paprika and salt; fry for 30 seconds, stirring constantly (sprinkle on a little water if things start to stick to the bottom of the pan).

Add the potatoes and fry for 2-3 minutes, again stirring constantly.

Add the water, bring to the boil then lower the heat, cover and cook for about 15 minutes until the potatoes are tender (keep an eye on things in case you need to add a bit more water); now stir in the garam masala.

Remove from heat and serve garnished with the coriander leaves.