Blueberry Sour Cream Cake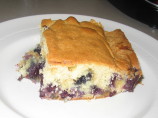 Photo by mary winecoff
Prep Time: 20 mins
Total Time: 50 mins
Serves: 6-8, Yield: 1.0 cake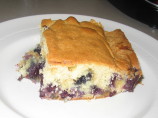 Photo by mary winecoff
About This Recipe
"My mother has been giving me all her old written recipes, she is off all treatments, and I guess she is handing me down her legacy. She used to be an awesome baker and sure hope she wrote this recipe down correctly, cause it was one of my favorites! I hope someone will try it and let me know how it comes out, or how it can be improved upon...or if the steps are even correct (!), I am SO not a baker! Some of the instructions do not make a whole lotta sense to me, because I do not bake, but maybe some of you can come up with something and make this work!"
Ingredients
1/2 cup sweet butter ( unsalted)

1 cup sugar

3 eggs

2 cups sifted flour

1/2 teaspoon salt

1 teaspoon baking powder

1 teaspoon baking soda

1 cup sour cream

1 teaspoon vanilla extract

1/2 cup packed brown sugar

2 cups blueberries ( fresh is best)
Directions
Preheat oven to 325 degrees.

Generously grease a 9x13x2 pan.

Cream butter and sugar.

Add eggs, one at a time, beating well after each addition.

Sift dry ingredients together and gradually add egg mixture, alternating with sour cream and ending with flour mixture (this is the part I'm not understanding).

Stir in 1 cup blueberries, and add vanilla. Pour 1/2 of the batter in the pan and top with remaining cup of blueberries, sprinkle with brown sugar.

Top off with remaining batter and bake for 45-50 minutes.

Cool in pan (on a rack) for 25-30 minutes.