Cauliflower Gratin With Manchego and Almond Sauce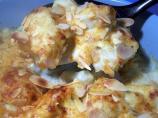 Photo by Moor Driver
Prep Time: 30 mins
Total Time: 1 hr
Servings: 6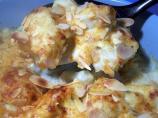 Photo by Moor Driver
About This Recipe
"This outrageously rich sauce, flavored with salty, nutty Manchego, gets poured on sautéed cauliflower and baked until it's golden and bubbling. MAKE AHEAD: The gratin can be prepared through Step 4 and refrigerated overnight. Bring it to room temperature before baking."
Ingredients
3/4 cup half-and-half

1/2 cup almonds, whole roasted with skin

2 tablespoons almonds, coarsely chopped

4 tablespoons unsalted butter

2 tablespoons all-purpose flour

1 cup whole milk

3/4 cup manchego cheese, finely shredded (or other mildly nutty semi-aged sheep's or cow's-milk cheese) or 3/4 cup gouda cheese, plus

2 tablespoons manchego cheese, finely shredded or 2 tablespoons gouda cheese

nutmeg, freshly grated

fresh ground pepper

2 lbs cauliflower, cut into 1 1/2-inch florets

1 medium onion, finely chopped

1/4 teaspoon paprika ( Pimenta de la Vera- smoked Spanish paprika)
Directions
Preheat the oven to 400°; In a small saucepan, heat the half-and-half until steaming, then transfer it to a food processor or blender; Add the 1/2 cup of whole almonds and process until finely ground; Let stand for 10 minutes; Strain the half-and-half through a fine sieve set over a bowl, pressing on the almonds to extract as much liquid as possible; Discard the ground almonds.

In a medium saucepan, melt 2 tablespoons of the butter; Add the flour and whisk over moderately high heat for 1 minute; Add the milk and the half-and-half and cook, whisking constantly, until thickened, 5 minutes; Remove from the heat; Add 3/4 cup of the Manchego and whisk until melted; Whisk in the nutmeg; season with salt and pepper. Keep warm.

In a large skillet, bring 1/2 inch of salted water to a boil; Add the cauliflower, cover and cook over high heat until crisp-tender, about 4 minutes; Drain the cauliflower in a colander; Wipe out the skillet.

Melt the remaining 2 tablespoons of butter in the skillet; Add the onion and cook over moderately high heat, stirring until lightly browned, about 5 minutes; Add the cauliflower and cook, stirring until lightly golden, about 2 minutes; Season lightly with salt and pepper; Transfer the cauliflower to a 7-by-10-inch glass or ceramic baking dish and spread the Manchego sauce on top.

Sprinkle the gratin with the remaining cheese, the 2 tablespoons of chopped almonds and the paprika and bake in the center of the oven for 20 minutes, or until bubbling and browned on top; Let stand for 10 minutes before serving.