Pumpkin Pie Hot Chocolate Drink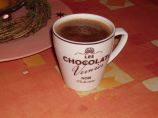 Photo by Mia in Germany
Prep Time: 5 mins
Total Time: 5 mins
Servings: 1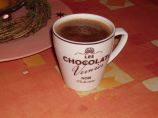 Photo by Mia in Germany
About This Recipe
"I made up this recipe because I thought the hot chocolate I usually have was a little bit bland. I recommend adding more milk if it tastes to strong to you. Your personal touch is encouraged! If you would rather have it coffee-free, go ahead! You could also use apple pie spice (haven't tried it, but it may taste good) or your favorite extracts."
Ingredients
1 1/2 tablespoons cocoa powder

2 1/2 tablespoons sugar

1/4 teaspoon pumpkin spice

1/4 teaspoon vanilla extract

1/8 teaspoon almond extract

4 1/2 cups milk ( I use soy milk because I'm lactose-intolerant so either will work)

2 teaspoons instant coffee powder
Directions
FOR MICROWAVE:.

Stir ingredients together as well as you can in a large microwavable cup.

Microwave cup with ingredients in this order (stirring in between): 25 sec., 35 sec., 15 sec.

Happy drinking!

FOR STOVETOP:.

Heat up milk in 2 quart sauce pan on medium-low.

When milk is warm, add liquids. Stir.

Add all the dry ingredients, but start with the cocoa powder and WHISK constantly to get all the clumps out.

When desired temperature is reached, pour into mug and drink!