Grilled Shrimp With Portabellas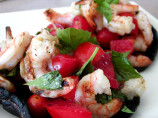 Photo by Rita~
Prep Time: 15 mins
Total Time: 25 mins
Servings: 4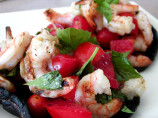 Photo by Rita~
About This Recipe
"Recipe source: Shopper's newsletter."
Ingredients
1 lb large shrimp, shelled and deveined

4 portabella mushroom caps ( 1 pound)

5 tablespoons olive oil, divided

2 tablespoons lemon juice

1/4 teaspoon salt

1/8 teaspoon pepper

1/2 cup grape tomatoes or 1/2 cup cherry tomatoes, halved

1/2 cup basil leaves, sliced ( or 1 tablespoon dried basil)
Directions
Soak wooden skewers in water for at least 30 minutes.

Prepare grill or preheat broiler.

Thread shrimp onto skewers.

Brush shrimp and portabellas with 2 tablespoons olive oil.

In a small bowl whisk together the remaining oil (3 tablespoons) with lemon juice, salt and pepper.

Add tomatoes and basil to dressing and set aside.

Place portabellas and shrimp onto grill (or on broiler rack) and grill until shrimp is cooked, turning once ( 3-5 minutes). Remove shrimp from skewers and add to dressing.

Continue cooking portabellas until softened (3-5 minutes longer).

Place portabellas, smooth side down, on serving plates (or platter) and spoon shrimp/tomato mixture onto caps. Garnish with basil, if desired.