Indian Lentil Soup (Dal Shorva)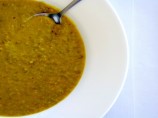 Photo by AmandaInOz
Prep Time: 1 min
Total Time: 36 mins
Servings: 4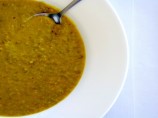 Photo by AmandaInOz
About This Recipe
"An inexpensive, easy-to-make and delicious soup. This slightly modified recipe stems from Mumtaz Khan at Mumtaz Paan House in Bradford, England. Mung beans is the exquisite choice, but red or yellow lentils also make a delicious result (green lentils are not recommended). The chicken stock can be replaced with vegetable stock for a vegetarian variety. This recipe can also be made with less liquid and served as a stew.¨ Improvement, a little off tradition, but works even better: 1) Fry the lentils/beans for a few seconds in ghee before adding the spices and liquid. 2) Add just a little tomato purée (1 tsp) to the soup. 3) Add one diced potato together with the lentils/beans."
Ingredients
1 1/2 cups mung beans or 1 1/2 cups red lentils or 1 1/2 cups yellow lentils

1 teaspoon turmeric

1/2 teaspoon cayenne pepper

1 teaspoon cumin

1/4 teaspoon cardamom

2 -3 curry leaves or 2 -3 bay leaves

6 cups chicken stock (preferably home-made) or 6 cups vegetable stock ( preferably home-made)

3 tablespoons vegetable oil or 3 tablespoons ghee

2 teaspoons mustard seeds

2 garlic cloves, finely chopped

salt and pepper

1/2-1 lemon
Directions
Rinse the beans or lentils.

Bring to a boil with the stock, turmeric, Cayenne, cumin, cardamom and curry/bay leaves.

Let simmer until the beans or lentils are very soft (ca 30 minutes).

If using bay leaves, remove them now. Curry leaves can be left in the soup.

Run the soup quickly in a blender to a not too smooth consistency (or mash the lentils/beans with a ladle).

Sautee the garlic and mustard seeds lightly in the fat and add to the soup.

Let simmer for another 5 minutes.

Add salt, pepper and squeezed lemon to taste.

Serve hot with pita or paratha bread.