Easy Starter(And Healthy)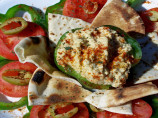 Photo by Rita~
Prep Time: 30 mins
Total Time: 30 mins
Servings: 4-6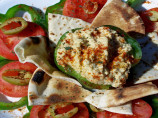 Photo by Rita~
About This Recipe
":Tasty, easy to prepare-no cooking. From Israel."
Ingredients
1 cup tinned chickpeas

2 tablespoons tahini

2 tablespoons lemon juice

1/2 chopped onion

2 chopped garlic cloves

1 tablespoon olive oil

3 medium firm tomatoes

2 green peppers

8 olives

paprika

2 pita bread

2 tablespoons parsley, chopped
Directions
blend first 6 ingredients in blender-put into bowl-add salt & pepper to taste.

Slice tomatoes and peppers into rounds(the pepper rounds shouild be bigger than the tomatoes.

Place peppers around outside of flat plate and tomato rounds inside peppers.

Cut olives in half and put one half in centre of tomatoes.

Put Humous mixture in middle of plate-drizzle with olive oil and sprinkle with paprika& parsley.

Serve with toasted pita cut into quarters.