Little Rooster's Cafe Corned Beef Hash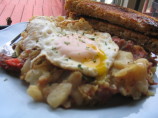 Photo by Lorrie in Montreal
Prep Time: 15 mins
Total Time: 23 mins
Servings: 2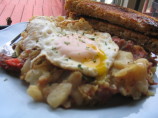 Photo by Lorrie in Montreal
About This Recipe
"From the Little Rooster Cafe in Manchester, Vermont, this lifts the humble corned beef hash upward to stardom! Adapted from Rachael Ray's $40 a Day."
Ingredients
12 ounces chopped corned beef

2 whole potatoes, peeled, cooked and grated

1/2 cup chopped mixed pepper

1/2 cup chopped red onion

1/2 cup chopped scallion

1 garlic clove, chopped (optional)

1 tablespoon chopped fresh parsley leaves

1 tablespoon chopped fresh rosemary leaf

1/2 teaspoon salt

1/2 teaspoon fresh pepper

1 -2 tablespoon olive oil ( for frying)

Bechamel Sauce

2 1/2 tablespoons butter

2 tablespoons all-purpose flour

2 cups milk

1 teaspoon salt

1/2 teaspoon freshly grated nutmeg
Directions
Heat a medium skillet and pour in oil.

Mix all the ingredients together and sauté over medium high heat until golden brown, about 8 minutes.

At the restaurant, the hash is placed on a plate, topped with two poached eggs, bechamel sauce is ladled on, and it is served with two slices of toast.

If you wish to use the bechamel sauce:.

In a medium saucepan, heat the butter over medium-low heat until melted. Add the flour and stir until smooth. Over medium heat, cook until the mixture turns a light, golden color, about 6 to 7 minutes.

Meanwhile, heat the milk in a separate pan until just about to boil. Add the hot milk to the butter mixture, a cup at a time, whisking continuously until very smooth. Bring to a boil. Cook 10 minutes, stirring constantly, then remove from heat. Season with salt and nutmeg, and set aside until ready to use. Makes about 1 1/2 cups. Use amount of sauce to taste.