Karl's Chargrilled Vegetable Salad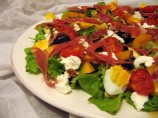 Photo by LilKiwiChicken
Prep Time: 30 mins
Total Time: 50 mins
Servings: 2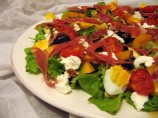 Photo by LilKiwiChicken
About This Recipe
"This is named in honour of my boyfriend, who last night really wanted dinner but seemed disappointed with salad. We weren't really hungry, so I came up with this salad platter which we shared. Any green lettuce that you have on hand can be used, and rocket/argula tastes nice as well. You could also arrange this on small plates and serve as a first course. The veges & lentils can be prepared ahead of time & refrigerated. The salad can then be built just before serving."
Ingredients
For the dressing

2 teaspoons coarse grain mustard

2 tablespoons balsamic vinegar

1 tablespoon good quality olive oil

For the salad

1 large yellow capsicum, cut into chunks

1 large zucchini

4 tablespoons puy lentils, cooked in light stock & cooled ( brown lentils can be substituted)

10 cherry tomatoes, halved

1 egg, boiled & cut into 1/8ths

100 g goat cheese

100 g serrano ham, torn into rough pieces ( or any airdried ham)

10 black olives

16 green lettuce leaves, torn
Directions
Make the dressing first by combining the dressing ingredients together and stirring well.

Chargrill the capsicum - I heated a pan on medium heat, and put chunks of the capsicum in the pan skin side down. Once it blisters, put it into a plastic bag for 15 minutes to sweat. The skins can then be removed easily.

Slice the zucchini thinly, either in rounds or lengthways. Chargrill until just starting to brown. Set aside to cool.

Place the halved cherry tomatoes under a grill until just starting to brown. Set aside to cool.

Tear the lettuce leaves and arrange on a large platter.

Sprinkle the lentils over the lettuce.

Arrange the veges on the lentils & lettuce, then crumble the goats cheese over the top.

Add the olives, ham & eggs.

Dribble the dressing over & serve with crusty bread.