Jam Mazurkas (Inspired by Mean Chef)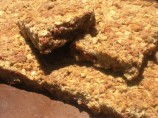 Photo by Pneuma
Prep Time: 15 mins
Total Time: 1 hr 5 mins
Servings: 24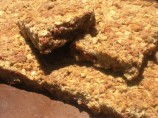 Photo by Pneuma
About This Recipe
"I made Mean Chef's Raspberry Mazurkas this morning to take to my son's boy scout camp tomorrow - they are wonderful and I strongly urge you try them. Having said that, I made a second batch with a number of my own 'tweaks' (and using apricot jam). The recipe has changed, but it is still really good. I hope you try this version, too."
Ingredients
4 cups all-purpose flour

2 cups brown sugar

2 cups rolled oats

1 cup walnuts, ground

1 1/2 cups coconut

3/4 teaspoon salt

1 -1 1/2 teaspoon cinnamon ( I prefer the lesser amount)

1 large egg

12 ounces butter, melted and cooled

1 3/4 lbs jam ( use a good-quality one of your choosing)
Directions
Preaheat oven to 350°F.

Combine all dry ingredients in a large bowl. Break up any clumps of sugar with your finger tips and work the ingredients to mix them.

Add melted butter and egg and work with fingers (I used one hand so I wouldn't get both gunky) to combine well.

Press half of dough in a foil-lined 15 X 10 inch pan, working well into edges and pressing down to compact.

Spread out jam of your choosing to within 1/2 inch of edges of pan - do not be tempted to use more jam than called for, the bars will be too sweet.

Take handfuls of remaining dough mixture and crumble it over pan, distributing evenly. Press down with palms of hand to compact - but not too hard.

Bake until golden-brown. 50 minutes in my oven (and to my taste).

Cool completely before cutting. Cut lengthwise into 4 even rows and crosswise into 6.