Chicken Cordon Bleu Burgers - Rachael Ray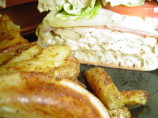 Photo by katie in the UP
Prep Time: 15 mins
Total Time: 27 mins
Servings: 4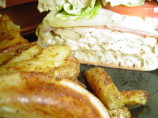 Photo by katie in the UP
About This Recipe
"This recipe makes HUGE burgers. Next time I will make them thinner/smaller. I did the patties on the Foreman grill. We enjoyed the flavors so much I'm making the burgers again this week, only I'm trying turkey, and bacos!"
Ingredients
9.85 ml vegetable oil or 9.85 ml olive oil, plus more for drizzling

4 slice Canadian bacon

907.18 g ground chicken

9.85 ml sweet paprika

9.85 ml poultry seasoning

9.85 ml garlic steak seasoning (Montreal Steak Seasoning) or 9.85 ml salt and pepper

1 shallot, finely chopped

4 slice swiss cheese

158.51 ml mayonnaise

44.37 ml Dijon mustard

29.58 ml fresh tarragon, 4 sprigs chopped

4 kaiser rolls or 4 English muffins, sour dough, split and toasted

8 leaf leaves lettuce

1 tomatoes, vine ripe, thinly sliced
Directions
Preheat grill pan, nonstick griddle, large nonstick skillet or table top electric grill to medium high heat.

Add 2 tablespoons of oil and Canadian bacon. Warm bacon and caramelize it at edges, 1 to 2 minutes on each side. Remove to a piece of foil. Fold foil over loosely to keep warm.

Pour olive oil on plate. Finely chop shallot (not too much shallot or too big, or the burgers will fall apart).

Combine chicken, paprika, poultry seasoning, grill seasoning, shallot.

Score meat with the side of your hand to separate into 4 equal amounts. Make 4 large patties, 3/4 to 1 inch thick. Drop each patty onto the plate you poured olive oil on and coat with oil and place on hot grill pan, griddle or in skillet. Cook 5 minutes on each side, until chicken is cooked through.

Top patties with reserved cooked Canadian bacon and Swiss cheese. Fold each slice of cheese in half to fit the burger. Cover loosely with tin foil. Turn off pan and let cheese melt, 2 minutes.

Combine mayonnaise (or reduced fat mayonnaise, eyeball it), mustard, tarragon. Slather bun tops or English tops with sauce. Place Cordon Bleu burgers on bun bottoms and top with lettuce and tomato. Put bun or muffin tops in place. Serve with fries.