Chicken in Lemon Caper Butter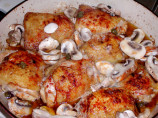 Photo by Rita~
Prep Time: 5 mins
Total Time: 40 mins
Servings: 4-6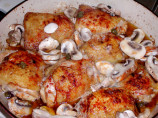 Photo by Rita~
About This Recipe
"The first dish I ever served to guests and the response I got was so positive I've been making it ever since. Needless to say, it's a very simple recipe. One of the few chicken dishes I still make using bone-in, skin-on chicken parts. When feeding known garlic-lovers, I'll increase the garlic. I generally serve it with noodles. While I post the original amounts from the recipe below, I actually do not measure the butter & lemon juice when I make this, but rather use 1 lemon's worth lemon juice and approximately the same or just slightly more butter, so that the butter comes to about 2-3 Tbs I would guess."
Ingredients
1/2 cup butter

2 tablespoons fresh lemon juice

1 teaspoon salt

1 garlic cloves, pressed or 1 garlic clove, minced

1/8 teaspoon pepper

1/2 teaspoon paprika

1 (6 ounce) cans sliced mushrooms, drained

1 tablespoon drained capers

1 (3 lb) frying chickens, cut up or 3 lbs chicken parts
Directions
Put the ingredients on the list from butter through capers in a skillet and bring to a boil over medium-high heat.

Arrange the chicken in the skillet and bring to a boil again.

Cover, lower heat and simmer about 30 minutes until the chicken is tender, turning several times. 4.