Kumquat's Panzanella (Bread and Tomato Salad)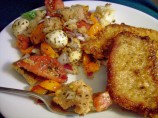 Photo by CindiJ
Prep Time: 30 mins
Total Time: 30 mins
Servings: 4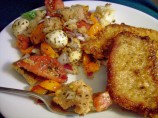 Photo by CindiJ
About This Recipe
"My version. There are others posted. I find this salad incredibly tasty. If you'd like to try it there is one VERY important caveat - do not stint on the quality of your ingredients. (Garbage in garbage out.) Some of the ingredients are available year round, but only prepare this if you know you can get tomatoes at their very best. Most panzanella recipes call for some oil but I prefer to omit it. Serve as side dish for four or main meal for two. This is a classic Italian recipe."
Ingredients
1/2 red onion, diced

8 ounces sourdough bread (toasted or day old) or 8 ounces ciabatta ( toasted or day old)

4 medium tomatoes, ripe, chopped

4 ounces low fat mozzarella, cubed

12 kalamata olives, pitted and halved

1/4 cup fresh basil, shredded

2 tablespoons red wine vinegar

2 tablespoons balsamic vinegar

2 tablespoons extra virgin olive oil (optional)

1 garlic clove, minced (optional)

1 teaspoon salt

1/2 teaspoon pepper, freshly ground
Directions
Put diced red onion in a small bowl and cover with water. (This removes some of the oniony taste.) The longer you soak it the milder it will become.

If bread is not day old, slice and place on cookie sheet in preheated 400 degree oven for about 10-12 minutes. Remove and let cool slightly.

Meanwhile, prepare and place all ingredients other than the bread and onion in a large bowl and mix.

Tear bread into bite size pieces, drain onions and add to tomato mix. Combine well. Adjust the seasonings to taste and serve.