Chocolate Cheesecake Muffins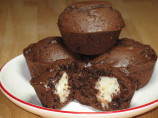 Photo by BeckyD in Tennessee
Prep Time: 15 mins
Total Time: 35 mins
Yield: 6 large muffins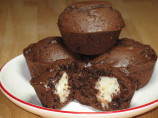 Photo by BeckyD in Tennessee
About This Recipe
"This recipe is from the Old Iron Inn Bed & Breakfast. It's great for all you chocoholics!"
Ingredients
Muffins

1 cup flour

1/2 cup sugar

2 teaspoons baking powder

1/4 cup cocoa powder

1/2 cup milk

1 egg

1/4 cup oil

1 teaspoon almond extract

Filling
Directions
Mix together the flour, sugar, baking powder, and cocoa powder in large bowl, set aside.

Preheat oven to 350ºF; grease muffin tins.

In small bowl, make filling: beat together cream cheese, powdered sugar, almond extract and cornstarch until uniformly fluffy - set aside.

In separate bowl, beat together milk, egg, oil and extract.

Add milk mix to flour mix. Mix just until you no longer see any dry bits in the batter.

Fill the bottoms of muffin cups with approximately 2 Tablespoons batter (about 1/3 full). Dab a spoonful of cream cheese filling in middle of each muffin cup, making sure filling isn't touching any of the sides. Cover up cream cheese with rest of batter, filling muffin cups until they are 3/4 full. Work as quickly as you can, so cream cheese doesn't sink to bottom.

Bake for 15-20 minutes.