Lamb Mince Curry (Kheema Shahzada Sort Of)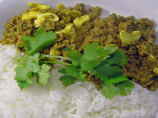 Photo by JustJanS
Prep Time: 20 mins
Total Time: 1 hr 20 mins
Servings: 4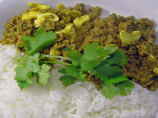 Photo by JustJanS
About This Recipe
"I got this from an Indian cookbook, but we have simplified it over the years so it could be made reasonably quickly for our Friday curry night after work. Our boys loved this even before they thought they liked curry! This is the most cooked recipe from the cookbook."
Ingredients
2 tablespoons oil

1 large onion, chopped into large dice

1 inch cube gingerroot, peeled, roughly chopped

3 garlic cloves, peeled, roughly chopped

3 fresh red chilies, roughly chopped

Spice Mix

1/2 teaspoon cinnamon ( or a little more to taste)

1 teaspoon cardamom powder

1/4 teaspoon ground cloves

3 teaspoons ground coriander

Grind the next two ingredients separately (mortar and pestle is good)

1 tablespoon poppy seed

1 tablespoon sesame seeds

1 lb lean ground lamb

1/2 teaspoon turmeric

1 teaspoon salt ( to taste)

10 fluid ounces warm water

5 fluid ounces milk

2 ounces raw cashews, split lengthways in half

2 tablespoons chopped fresh coriander ( cilantro)

fresh coriander ( to garnish)
Directions
Heat 1 tablespoon oil in a large pan and add the onion. Cook about 5 minutes or until softened. Add the garlic, ginger and chillies and cook gently about 5 minutes more. Remove from heat and transfer to a bowl and allow to cool.

Add the remaining oil to the pan and fry the spice mix and ground poppy and sesame seeds for about 30 seconds, stirring constantly.

Add the lamb and fry until all the liquid has evaporated (about 10 minutes) stirring frequently.

Add the turmeric, stir and fry 30 seconds.

Add the salt and water and cook over a low heat for 15 minutes, stirring occasionally.

Meanwhile, put the milk and fried onions into a blender and pulse until smooth.

Stir this milk mix into the meat and bring back to the boil.

Simmer for about 10 minutes or until the gravy is thick.

Add the chopped coriander and cashews and cook a further 5 minutes.

Serve sprinkled with extra chopped coriander.