Brownie Balls (A.k.a. Pms Dessert!)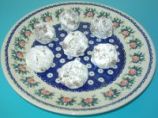 Photo by StirCrazyMamma
Prep Time: 10 mins
Total Time: 18 mins
Yield: 24 cookies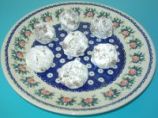 Photo by StirCrazyMamma
About This Recipe
"Nothing says "Mom's having PMS" like the foreboding smell of chocolate wafting from the kitchen. When my family sees these these treats on the cooling rack, they know to head for the hills. The recipe yields 2 dozen (if you don't eat half the dough before it's cooked...) but as far as my family knows, it makes four."
Ingredients
1/2 cup butter or 1/2 cup margarine

2 ounces unsweetened baking chocolate

3/4 cup sugar

1 egg

1 teaspoon vanilla extract

1/4 teaspoon salt

1 3/4 cups flour

1/2 cup chopped walnuts ( or Pecans!)

powdered sugar
Directions
Pre-heat your oven to 375 degrees (F).

Melt butter or margarine and chocolate in medium saucepan over low heat (or melt in the microwave in a glass bowl or measuring cup for 2 minutes or until butter or margarine is melted).

Set aside to cool for five minutes.

While you're letting the chocolate cool, stir sugar, egg, vanilla and salt together until well blended.

Stir the cooled chocolate/butter or margarine mixture until nice and smooth. Then mix it in with the above sugar, etc. mixture.

Now stir in the flour and nuts.

Shape mixture into 1-inch balls and place 2 inches apart on ungreased baking sheet.

Bake for 8 to 10 minutes.

While warm, roll in powdered sugar.

Cool on wire racks.

Once cool, roll in powdered sugar again!

Store in airtight container.