Kid Friendly Veggie Muffins!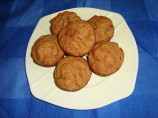 Photo by reena23
Prep Time: 10 mins
Total Time: 35 mins
Yield: 24 muffins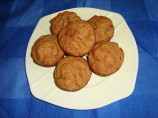 Photo by reena23
About This Recipe
"Sneak veggies into a finicky diet with these! Follow the recipe to the T for a super healthy well balanced snack, or use what you have and be happy they're eating any vegetables at all! Okay, there's a little butter and sugar in there...we're trying to be sneaky remember? I actually find these a bit bland but my kids scarfed them down (even my 17 month old, who thinks food is strictly for throwing!). If I were making them of me, I'd add more sugar."
Ingredients
473.18 ml whole wheat flour ( or what you have on hand)

29.58-44.37 ml soy flour ( omit if you'd like but it adds protein)

4.92 ml baking soda

1.23 ml salt

59.14 ml unsalted butter, softened

78.07 ml brown sugar ( or other sweetener)

29.58-44.37 ml honey (optional)

1 egg

709.77 ml vegetables, pureed ( I use 6 jars of baby food)

4.92 ml vanilla

9.85 ml cinnamon
Directions
Preheat oven to 350°F.

Spray muffin pans or line with muffin papers.

Mix ingredients with electric mixer until well blended (I never mix dry then wet or cream butter and sugar -- if you'd like to by all means use all the bowls you want!).

Fill muffins 2/3 full with batter.

Bake 25 minutes until or toothpick comes out clean.

Cool partially in the pan then remove to wire rack.

Store half in an air tight container.

Freeze the other half. Microwave to defrost.

I like to use sweeter veggies. Usually 2 jars of sweet potatoes, 1 of sweet peas, 1 carrots, and 2 mixed veggies (you can find spinach, green beans and corn this way).

If you are using your own steamed vegetables, you may need to add some fruit juice to thin it out to the consistency of applesauce.

If you don't have 3 cups of vegetables, make up the difference with unsweetened apple sauce or mashed bananas.