Blushing Peach Banana Jam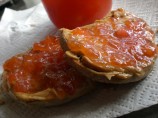 Photo by Rollin in the Dough!
Prep Time: 30 mins
Total Time: 50 mins
Yield: 8 half pints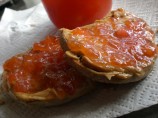 Photo by Rollin in the Dough!
About This Recipe
"beautiful, tropical, and delicious!!! a friend helped me find this recipe off the net. cooking time does not include time for water to boil in water bath canner."
Ingredients
768.91 ml peaches, ripe peeled and mashed ( roughly 2 pounds)

236.59 ml banana, ripe and mashed ( about 3 medium sized)

118.29 ml maraschino cherry, drained and diced

29.58 ml lemon juice

1419.54 ml sugar

1 (49.61 g) package dry pectin
Directions
Mix peaches, bananas, cherries, and lemon juice into a large saucepan.

Mix pectin into fruit in pan.

Stir and cook over high heat until mixture comes to a full rolling boil (one that can't be stirred down).

Add and stir in the sugar.

Bring to a full rolling boil once again.

Stir constantly and boil. Boil rapidly for one minute.

Remove from heat.

Skim off foam.

Stir and skim for about 5 minutes allowing mixture to cool slightly and prevent floating fruit.

Ladle into sterilized canning jars, leaving 1/4 inch headspace.

Make sure jar rims are clean and cover with two piece metal lids and rings.

Hot water bath for 5 minutes.