Tacos in a Bag (Or Taco Salad in a Bag)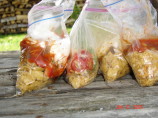 Photo by lets.eat
Prep Time: 20 mins
Total Time: 25 mins
Servings: 1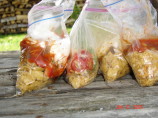 Photo by lets.eat
About This Recipe
"Not really a 'recipe', just a way to serve them when you have a lots of kids over, and most important NO MESS to clean up. My DS's and their cousins really had fun with this, and they could layer whatever they wanted. I'm giving just an estimated quantity and serving is for 1 person. To free up your time buy presliced vegetables from the local salad bar in your supermarket, just place them individually in the plastic produce bag and place in salad bar container to keep ingredients apart."
Ingredients
1 cup corn chips or 1 cup plain Doritos or 1 cup tortilla chips

1/2 cup taco meat

3 tablespoons shredded taco cheese

1 tablespoon chopped onion

2 tablespoons chopped bell peppers, whatever type you prefer

4 cherry tomatoes, sliced in half

2 tablespoons sliced black olives

1 tablespoon sliced green olives

1/3 cup shredded lettuce

2 tablespoons taco sauce

2 tablespoons sour cream
Directions
Heat leftover taco meat in microwave.

Have the kids help you carry the rest of the ingredients outside to the picnic table (you carry the meat).

Hand each child a plastic sandwich bag and pour the corn chips in the bag.

Have each child gently crush the chips, not roughly or else they'll poke holes in the bags.

Have each child walk around the table to layer their own ingredients in the bag, pass each child a fork and dig in!.

Simply toss out the bag when they are done.