Southwest Pinto Bean Burgers With Chipotle Mayonnaise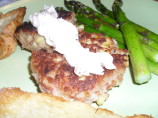 Photo by vrvrvr
Prep Time: 20 mins
Total Time: 35 mins
Servings: 4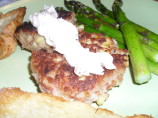 Photo by vrvrvr
About This Recipe
"In my search for something my vegetarian teenage daugher will eat, I ran across this recipe in the Jan/Feb 2005 Cooking Light. I sauteed the onions and jalapenos so they would be softer. Now, you might ask what to do with the leftover chiles and adobo sauce once you open the can. Try freezing them in an ice-cube tray. Remove frozen cubes from tray, cover in plastic wrap, and store in a zip-top bag in the freezer. Use cubes to flavor chili or next time you need it in a recipe."
Ingredients
Burgers

118.29 ml diced onion

118.29 ml dried breadcrumbs

59.14 ml chopped cilantro

29.58 ml minced & seeded jalapeno peppers

29.58 ml reduced-fat sour cream

4.92 ml hot pepper sauce

2.46 ml ground cumin

1.23 ml fresh ground black pepper

0.59 ml salt

1 large egg

1 (425.24 g) can pinto beans, drained

1 (248.05 g) can no-salt-added corn, drained

Chipotle Mayonnaise

59.14 ml low-fat mayonnaise

4.92 ml canned minced chipotle chile in adobo

Remaining ingredients
Directions
To prepare burgers, combine the first 10 ingredients in a large bowl. Add pinto beans and corn; partially mash with a fork. Divide bean mixture into 4 equal portions, shaping each portion into a 3 1/2-inch patty, and refrigerate for 10 minutes. (I didn't like the idea of those whole corn kernels in the mixture, so I gave them a couple of pulses in the food processor. That made the mixture a bit softer, so I ended up adding a bit more bread crumbs to stiffen it up).

To prepare chipotle mayonnaise, combine mayonnaise and 1 teaspoon chipotle in a small bowl; set aside. If you want it smoother, give it a whirl in the food processor.

Heat canola oil in a large nonstick skillet over medium-high heat. Add patties to pan, and cook 4 minutes on each side or until thoroughly heated. Toast buns. Place patties on bottom halves of buns; top each patty with 1 tablespoon mayonnaise, 1 lettuce leaf, and top half of bun.