Better Than Chicken and Dumplings!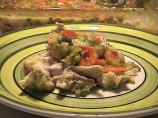 Photo by Lori Mama
Prep Time: 0 mins
Total Time: 30 mins
Servings: 4-6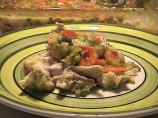 Photo by Lori Mama
About This Recipe
"This dish is baked in a 9x13 casserole, and the dumplings sort of make themselves. it is easy and delicious. it appeared in a local community paper some time ago."
Ingredients
3 -5 chicken breasts

1 stalk chopped celery

1 sliced carrot

3 sprigs parsley

1 tablespoon seasoning salt

water, to cover above ( 3-4 cups)

1/2 cup sliced celery

1/2 cup chopped onion

1/2 cup sliced carrot

1/2 cup green peas (optional)

1/4 cup butter

1 cup self-rising flour

1 cup milk

1 (10 1/2 ounce) cans cream of chicken soup

2 cups chicken broth
Directions
Combine the first 6 ingredients and bring to a boil. Reduce heat to simmer. Cook until chicken is done.

Remove from broth and cool. You will use 2 c of this broth in the preparation!

Remove from bones if needed.

Saute the vegetables, except peas in a little butter or oil, until soft.

Melt the 1/4 cup butter and pour into the 9x13 dish, to grease the bottom.

Cut or tear the chicken into pieces and place on top of the melted butter.

Mix flour and milk; pour over chicken.

Mix soup, 2 cups of the broth, the sauteed vegetables and peas (if using).

Pour over the top.

DO NOT STIR!

Bake at 400 degrees for 30-35 minute or until top is brown.

***.

To make this realy fast use Rotisserie Chicken and canned Broth!(2 cups).