Tomato and Mozzarella Burger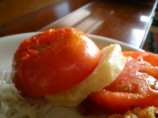 Photo by Jessiica
Prep Time: 10 mins
Total Time: 30 mins
Servings: 6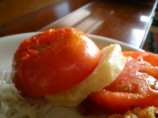 Photo by Jessiica
About This Recipe
"I saw this recipe in the Real Simple July issue...had the ingredients...didn't have DH at home for dinner...So had a great..great 'chick' meal (quote from DH) Recipe can be adjusted to any quanities you want."
Ingredients
6 large tomatoes, ripe ( approx 2 1/2 lb)

2 tablespoons olive oil

1 teaspoon kosher salt

1/4 teaspoon black pepper

1 large garlic clove, thinly sliced

8 ounces fresh mozzarella cheese

2 sprigs fresh basil, leaves picked
Directions
Heat oven to 450 degrees.

Slice a thin piece from the rounded bottom of each tomato, so they sit upright.

Slice each tomato in half horizontally. Arrange the tomato halves, cut side up on a shallow roasting pan or rimmed baking sheet lined with foil.

Drizzle with the oil, then sprinkle on the salt and pepper.

Scatter the garlic over the tomatoes.

Roast until they're softened and warmed through, approx 15 minutes.

Mine took longer -- approx 25 minutes. Mean while, cut the mozzarella into 6- 1/2 inch rounds.

Using a spatula, sandwich each cheese slice between 2 hot tomato halves.

The heat of tomatoes will melt the cheese slightly.

Drizzle with the juices collected in the roasting pan and garnish with basil.