Fantastic Hot 'n' Spicy Wings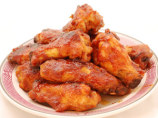 Photo by Cook In Southwest
Prep Time: 1 hr
Total Time: 1 hr 35 mins
Yield: 3 pounds wings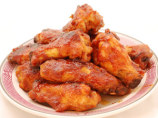 Photo by Cook In Southwest
About This Recipe
"This is the BEST recipe for hot wings and I have tried many others over the years ---I make these quite often for my parties and everyone loves them --- you may double all ingredients if desired, if you are doubling the ingredients, I suggest to just start with 2 tablespoons hot sauce such as Louisiana hot sauce then add more to reach the desired heat --- I have even prepared these on the grill instead of the broiler and then finished cooking them in the oven with the sauce, another idea is you may cook the wings hours in advance or even a day ahead cool slightly and just leave them in the fridge overnight, then the following day just coat them in the hot sauce and then bake them in the oven, you may even prepare the hot sauce a day ahead in fact it tastes even better if prepared in advance just refrigerate overnight, preparing the wings and the sauce in advance is a great time saver if you are making them for a crowd,"
Ingredients
HOT SAUCE

1/2 cup ketchup ( I have even used the hot ketchup for this!)

1/4 cup water

1/4 cup honey

1/4 cup white vinegar

2 tablespoons light brown sugar

1 tablespoon Dijon mustard

1 tablespoon Worcestershire sauce

1 tablespoon soy sauce

2 tablespoons hot sauce ( use more or less, depending on amount of heat desired)

2 -3 minced fresh garlic cloves

3 tablespoons minced dried onion
Directions
Set oven to broil.

Prepare the wings on a shallow cookie sheet that is lined with foil, and spray with a non-stick cooking spray, or prepare a broiler pan.

Arrange the wings evenly in a single layer.

Place under the broiler until lightly browned (watch closely to not burn the wings) set wings aside.

In a saucepan combine all sauce ingredients, and bring to a boil; reduce heat and simmer for 15-20 minutes (adjust the hot pepper sauce to suit taste).

Up to this point, all above can all be prepared a day in advance and refrigerated.

Set oven to 375 degrees F.

Using long tongs, dip each wing in the hot sauce, and place evenly on a greased baking sheet.

Bake for 35-40 minutes (basting with remaining sauce during cooking).

To crisp up the wings, place under broiler for a couple of minutes.