Chinese-Style Orange-Almond Chicken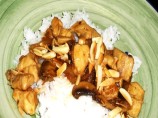 Photo by Karen Elizabeth
Prep Time: 10 mins
Total Time: 40 mins
Servings: 4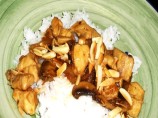 Photo by Karen Elizabeth
About This Recipe
"I have posted this delicious-sounding way to cook chicken – which you can have on the table in forty minutes - in response to a Forum Request for a recipe for Chinese-style Orange Chicken. I have adapted it from Lisa Pettit's recipe in Prevention Healthy Cooking's 'Eat Up, Slim Down: Tried-and-true recipes and tips from real weight-loss winners' by Jane Kirby and David Joachim. Commenting on this recipe, Lisa says "When I'm craving Chinese-style sweet-and-sour chicken but don't want the calories or fat, I turn to this recipe". If you want to increase the orange flavour, substitute some of the soy sauce for orange juice: perhaps half soy sauce and half orange juice. This is a combination that I know works well in my Veal With Orange Sauce Veal With Orange Sauce."
Ingredients
30 g slivered almonds

1 tablespoon peanut oil or 1 tablespoon vegetable oil

4 boneless skinless chicken breasts

60 g shallots, chopped

100 g mushrooms, sliced

100 g orange marmalade

3 tablespoons soy sauce, low sodium

1/4 teaspoon fresh ground black pepper, to taste

orange slice (optional)
Directions
Place the almonds in a large non-stick pan and, shaking the pan often, toast over a medium heat for 5 minutes or until fragrant. Set aside.

Warm the oil in the same pan over a medium-high heat, add the chicken and, turning occasionally, cook for 5 minutes or until it is cooked through. Set aside, and keep warm by covering loosely with foil.

Add the shallots to the pan and cook for 5 minutes or until they have softened.

Add the mushrooms to the pan and cook for 5 minutes or until they have softened.

Stir in the marmalade, soy sauce and freshly ground black pepper, and return the chicken to the pan.

Reduce the heat to low, cover and simmer for 10 minutes or until the juices run clear.

Serve over a bed of steamed rice, topped with the almonds and orange slices.