Light and Luscious Cheesecake Soufflé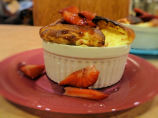 Photo by PaulaG
Prep Time: 10 mins
Total Time: 40 mins
Servings: 2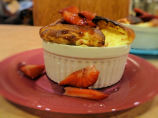 Photo by PaulaG
About This Recipe
"The Strawberry Swap of 2005 inspired me to create my own recipe using these wonderful berries. This light and airy dessert is sinless, delicious and satisfying. For those on Weight Watchers the souffle is Core plus a half point for the fruit spread (you can always omit). For Flexers, it's 2 points total."
Ingredients
1/2 cup fat-free cottage cheese

3 -5 teaspoons Splenda sugar substitute

1/4 teaspoon vanilla extract or 1/4 teaspoon almond extract

1 dash cinnamon

1 egg, separated

1 egg white

1 dash cream of tartar

6 strawberries, sliced

1 tablespoon strawberry all-fruit spread or 1 tablespoon raspberry spreadable fruit

1 tablespoon water
Directions
Preheat oven to 375 degrees.

Puree the cottage cheese until there are no lumps. Add Splenda to taste, egg yolk, vanilla and a dash of cinnamon.

In a separate bowl whip egg whites to soft peaks. Add a dash of cream of tartar to stabilize if needed.

Gently fold the egg whites into the cottage cheese mix.

Pour into 2 ramekins until it just below the lip to allow for rising. Place ramekins into a larger baking pan and fill with boiling water until the water comes two-thirds up the sides of the ramekins. (I use a loaf pan.).

Bake souffles for 28-30 minutes until golden brown on top.

Mix the fruit spread and water together. Add strawberries and mix.

Serve warm souffles with berries spooned on top.