Homestyle Macaroni and Cheese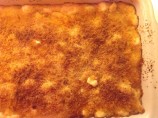 Photo by Moonwalk02
Prep Time: 40 mins
Total Time: 1 hr
Servings: 8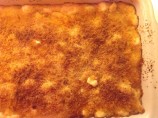 Photo by Moonwalk02
About This Recipe
"It's not a lowfat casserole, but it's so delicious you won't care. Add leftover ham for an even heartier meal."
Ingredients
1/2 lb macaroni

1/4 cup butter

3 tablespoons flour

2 cups 1% low-fat milk

1/2 lb low-fat cream cheese, softened

1/2 teaspoon salt

1/2 teaspoon fresh ground black pepper

1 tablespoon Dijon mustard

1/2 lb sharp cheddar cheese

1 cup fresh breadcrumb

2 tablespoons butter, melted

2 tablespoons chopped fresh parsley
Directions
Preheat oven to 400 degrees Fahrenheit.

Cook macaroni (1/2 pound= 2 cups dry) until just al dente.

You can use elbows for a traditional look, but try scoobi-doo-- it works well in this recipe.

Drain pasta well.

While the mac is boiling, melt the 1/4-cup butter in a large pot.

Whisk in the flour.

Over med heat, whisk until smooth and bubbly (only about a minute).

Stir in milk, cream cheese, salt, pepper& mustard.

Keep cooking and stirring until sauce is thickened-- about three or four minutes.

Cut the block of cheddar into half-inch cubes.

Add drained macaroni and cubed cheddar& combine well.

Pour into a casserole sprayed with Pam.

In a small bowl, combine the remaining ingredients and sprinkle over top.

Dust with paprika if desired.

Bake for 15-20 minutes, or until top is golden brown and casserole is heated through.