Ww 6 Points - Pollo Borracho (Drunken Chicken)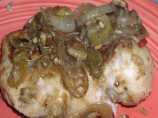 Photo by teresas
Prep Time: 10 mins
Total Time: 48 mins
Servings: 4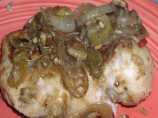 Photo by teresas
About This Recipe
"From WW Slim Ways Mexican. This is 6 points for chicken thighs and 5 points if you use chicken breasts."
Ingredients
1/4 cup golden raisin

2 tablespoons dry sherry

1/4 teaspoon salt

1/4 teaspoon fresh ground black pepper

16 ounces skinless chicken breasts or 16 ounces chicken thighs

1 teaspoon corn oil

1 cup thinly sliced onion

1/2 ounce sliced blanched almond

2 large garlic cloves, crushed

1 1/2 cups low sodium chicken broth

10 small green olives, sliced

1/4 teaspoon dried thyme leaves

1/4 cup tbsps cider vinegar

1 tablespoon cider vinegar

1/4 cup tequila

2 teaspoons cornstarch

1 teaspoon sugar
Directions
In small saucepan, combine raisins and sherry; cook over low heat just until comes to a simmer. Remove from heat, let stand 10 minute.

On paper plate or wax paper, combine flour, salt, and pepper. Coat skinned side of each chicken breast with flour mixture. Set chicken aside.

In medium non-stick skillet, heat oil; add chicken flour-side down. Cook over med-high heat 5 min until golden brown. Turn chicken over, cook 3 min longer. Remove chicken from skillet, set aside.

In same skillet, cook onions over med heat, stirring frequently, 8-10 min until lightly browned. Add almonds and garlic; cook, stirring frequently, 3 min until almonds are golden brown.

Add broth, olives, thyme, and reserved raisin mixture, increase heat to high. Cook, stirring occasionally, until liquid is reduced in volume by about a third, about 10-15 minute.

In small bowl, with wire whisk, combine vinegar, tequila, cornstarch and sugar. Add broth to mixture. Bring liquid to a boil, reduce heat to low. Cook, stirring occasionally, until slightly thickened. Add reserved chicken; simmer, basting chicken frequently with sauce, 5-10 min, until chicken is cooked through.

Chicken thighs = 6 points per serving (1 thigh + 1/2 cup sauce).

Chicken breasts = 5 points per serving (1 breast + 1/2 cup sauce).