Kezza's Chunky Pizza Sauce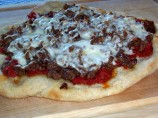 Photo by WiGal
Prep Time: 5 mins
Total Time: 1 hr 10 mins
Yield: 2 cups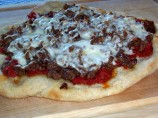 Photo by WiGal
About This Recipe
"My boyfriend and I had the most fantastic pizza in Italy during our travels, even the takeaway stuff is fantastic. Through trial and error (and expanding waistlines) we think that I've found a good approximation of a home-made pizza sauce we had in Cassino when we went down there for the 60th commemorations last year."
Ingredients
22.18 ml olive oil

3 garlic cloves, finely chopped

1 large onion, finely chopped

14.79 ml dried oregano

44.37 ml fresh basil, chopped

2.46 ml dried thyme

2 (800 g) can plum tomatoes, roughly chopped ( or, 10 x large plum tomatoes, x's cut into the skin, then plunged into boiling water for 2 minutes,)

59.16 ml tomato paste

freshly ground salt & pepper
Directions
Heat the olive oil in a medium saucepan, on medium heat.

Saute the onions and garlic until translucent, but do not allow to burn or brown.

Add the herbs and saute for 1 minute.

Add the tomatoes and tomato paste (and salt & pepper to taste) and simmer for 60 minutes on low heat (I use 2/6) until reduced to a thick sauce. I taste this every 10 minutes and sometimes add pepper if required.

Cool, and use on your favourite pizza bases. Can be used on 4 x medium bases (if you like a lot of sauce), or 6 bases if you like a thinner covering. You can also puree this with a Bamix if chunky sauce isn't your thing (plus, it goes further if you puree it).