Beefy Chicken Loaf (oamc)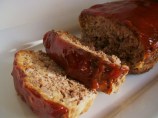 Photo by * Pamela *
Prep Time: 20 mins
Total Time: 1 hr 20 mins
Servings: 6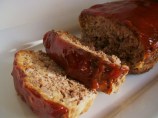 Photo by * Pamela *
About This Recipe
"Adapted from Company's Coming Make Ahead meals by J. Pare."
Ingredients
Loaf

1 egg

1/4 cup milk

1/2 teaspoon seasoning salt

1/2 teaspoon pepper

1 tablespoon Worcestershire sauce

1/4 teaspoon liquid smoke

1 onion, finely chopped

1 lb ground beef

1/2 lb ground chicken or 1/2 lb ground turkey

3/4 cup rolled oats, not instant ( may be ground into crumbs by whirling in a blender)

Sauce

1/4 cup ketchup

1 tablespoon mustard

1 tablespoon brown sugar

1 teaspoon Worcestershire sauce

1/2 teaspoon chili powder
Directions
Combine loaf ingredients together in a large bowl and mix well to ensure even blending.

Pack into a loaf pan, or muffin tin for mini loaves.

Mix sauce ingredients together and spread evenly over loaf.

Bake uncovered for 60 minutes at 350 degrees.

To freeze: wrap unbaked loaf well, label and freze.

To serve: defrost overnight and then bake as directed. Add 30-45 minutes baking time if baking from frozen.