Turkey Leftovers - Barley Soup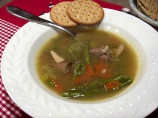 Photo by Derf
Prep Time: 30 mins
Total Time: 3 hrs 30 mins
Servings: 6-8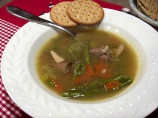 Photo by Derf
About This Recipe
"Use the turkey leftovers to make this hearty soup. If everyone is tired of turkey, freeze it and enjoy it on a cold winter night with some crunchy french bread"
Ingredients
Broth

1 Spanish onion, chopped

2 carrots, chopped

1 bay leaf

10 -12 peppercorns

1/4 cup parsley sprig, chopped

1 turkey carcass

8 cups water

1 (10 ounce) cans chicken stock

1 (18 ounce) cans tomatoes

Soup

1 cup sliced carrot

1/2 cup sliced celery ( with leaves)

1/2 small peeled cubed rutabaga

1/3 cup pearl barley

4 cups cubed cooked turkey

1/2 cup corn kernel

1/2 cup canned red kidney beans, washed

salt and pepper

2 tablespoons chopped fresh parsley
Directions
Broth---------.

Combine onion carrots, bay leaf, peppercorns,parsley stocks, turkey carcass, water, chicken stock and tomatoes, in a stock pot.

Bring to boil.

Reduce heat to simmer.

Simmer for 2 1/2 hours.

Strain.

Soup-----------.

In a clean stockpot, combine strained turkey broth, carrots, celery, rutabaga and pearl barley.

Simmer for 30 minutes or until barley and veggies are tender.

Add turkey, corn and kidney beans.

Cook for a couple of minutes until heated through.

Add Salt and pepper to taste.

Ladle into bowls and garnish with parsley.