Jeremy's Mom's Strawberry Jelly Ring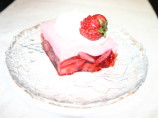 Photo by Leslie in Texas
Prep Time: 15 mins
Total Time: 15 mins
Servings: 10-12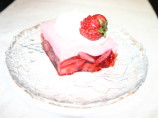 Photo by Leslie in Texas
About This Recipe
"Emila Brittain made this for our team party for the East Toronto Dodgers all-star baseball team many years ago; I asked for the recipe and she faxed it to me on May 31, 1996. For a long time, I lost the fax -- but I finally found it! I thought it best to get this here at Zaar for two reasons: the fax has already started to fade badly, and I don't want to lose this delicious recipe again. Emila served it as a salad, but it could also be a dessert. Please note that the time to prepare doesn't include the chilling time."
Ingredients
1 (6 ounce) packages strawberry gelatin ( the large box of Jell-o)

2 cups boiling water

1/2 cup sugar

1 1/2 cups cold water

1 pint fresh strawberries, halved and sliced

8 ounces cream cheese, softened

1 teaspoon vanilla extract
Directions
Dissolve the contents of the large package of Strawberry Jell-o (you could use 2 packages of the normal size of jell-o if your store doesn't carry the big package) in two cups of boiling water. Add 1/2 cup sugar and 1 1/2 cups cold water and mix well.

Remove 2 1/2 cups of mixture and chill (keep the rest at room temp as you don't want it to chill and start to set).

When chilled mixture has partially set, add a pint of fresh strawberries, halved and sliced. Pour into a 6-cup mold (Emila used the classic tupperware ring mold).

Chill until set but not firm.

Beat 8 oz softened cream cheese, gradually adding reserved jello mixture plus 1 tsp vanilla. Spoon over strawberries in mold.

Chill at least 3 hours before serving.

Unmold to serve and place on a round serving platter.