Strawberry Brownie Ice Cream Sundae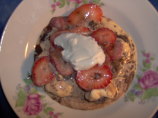 Photo by Sharon123
Prep Time: 20 mins
Total Time: 1 hr 20 mins
Servings: 6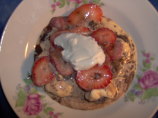 Photo by Sharon123
About This Recipe
"This is my take on a recipe by Chef Andrew Sutton....his is so much more complex. I broke this down into many steps for ease of understanding but it is really a simple preparation."
Ingredients
19 7/8 ounces brownie mix

3 1/2 cups fresh strawberries, cleaned and sliced, divided

1/2 gallon low-fat vanilla ice cream, soften

1/2 cup caramel sauce

1/2 cup chocolate syrup

1/4 teaspoon vanilla extract

1 teaspoon lemon juice, fresh

1/8 teaspoon salt

1/2 cup sugar, substitute*
Directions
Prepare brownie mix following package directions or make your own. Do not add any extra ingredients, such as nuts or chips.

Bake and set aside to cool.

In small saucepan, place 1 cup strawberries, sugar, vanilla, juice, and salt.

Bring to a boil for 2 minutes, then pour over 21/2 cups of sliced strawberries and allow to macerate for about one hour.

Cut brownies into bite-size cubes.

In bottom of clear glass bowl, place 2 cups of strawberries. Follow with the cubed brownies.

Add 1/2 half of the soften ice cream over brownies and spread to seal.

Place bowl in refrigerator or freezer until ice cream is firm (freezing is not needed).

Drizzle caramel sauce over top.

Add rest of ice cream, sealing top.

Drizzle chocolate sauce over top. Freeze.

When ready to serve, top with rest of berries and some whipped topping as desired.

* Make sure to read box for directions as to how much equals 1/2 cup.