Quince-Ginger Marmalade (Jam)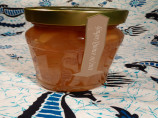 Photo by awalde
Prep Time: 25 mins
Total Time: 45 mins
Yield: 3 Half Pints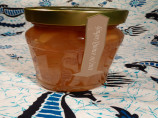 Photo by awalde
About This Recipe
"This is the easiest, quickest spread I have ever made. I didn't have a recipe so I improvised and it worked. The quince sets beautifully so you need no pectin. The ginger gives it a lovely flavor for your wakeuo toast. This recipe can be doubled. I believe there are some quince that need longer cooking time than the ones I have. I have looked at several recipes on the Internet and they say to boil for 2 hours so you will have to boil until softened"
Ingredients
2 cups quinces, peeled, cored, chopped

1 3/4 cups sugar

2 cups water

1 cup crystallized ginger, chopped

14 drops rose water (optional)
Directions
Put the quince, sugar and water in a saucepan.

Stir until the sugar has dissolved.

Bring to a boil and simmer until the quince has completely softened and has become part of the water sugar mixture.Apprx 20 minutes.

Force the mixture through a sieve into another pot and add the ginger.

Bring to a simmer until it forms a drop from a teaspoon.

Add the rose water.

Pour into sterilized jars and seal.