Stuffed Bell Peppers With a Savoury Cashew Sauce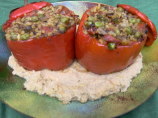 Photo by Sharon123
Prep Time: 20 mins
Total Time: 1 hr 10 mins
Servings: 4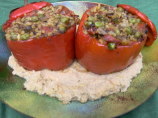 Photo by Sharon123
About This Recipe
"Oh, this is just delcious! A vegetarian delight! I have found out that the Africans cook alot with peppers and frequently stuff them with rice and/or grains."
Ingredients
4 medium red peppers

3 tablespoons olive oil

1 medium onion, peeled and chopped

3 garlic cloves, peeled and crushed

6 ounces long grain brown rice ( 1 cup)

2 cups vegetable stock ( or chicken)

1 pinch turmeric

1/2 lemon, juice of

2 ounces frozen peas, defrosted

3 medium tomatoes, chopped

2 tablespoons black olives, sliced and pitted

2 tablespoons fresh basil leaves, chopped ( or 2 tsp. dried)

salt & freshly ground black pepper

FOR THE SAUCE

1 small onion, peeled and roughly chopped

2 teaspoons olive oil

3 ounces cashew nuts, ground

1 vegetable bouillon cube

1/2 cup water
Directions
Pre-heat the oven to 400* F. Cut-the tops off the peppers and save. Remove the seeds. Simmer the pepper bases in water for 5 minutes to soften, then drain and refresh in cold water. Use 1 tbls. of olive oil to oil an ovenproof dish and brush the pepper bases and tops.

Heat the remaining oil in a medium saucepan. Saute the onion and garlic for 4 minutes until softened. Add the rice and stir for 1 minute to coat with oil.

Add the stock to the turmeric and lemon juice, cover, bring to the boil, and simmer, covered, for 20 minutes until the rice is tender. Remove from the heat. Add the peas, tomatoes, olives and basil leaves. Stir to combine all the ingredients and season to taste.

Spoon the mixture into the pepper bases and cover with the tops. Bake for 15-20 minutes, until the tops of the peppers are tender and golden.

For the sauce:.

Saute the onion in the olive oil until soft. Meanwhile blend well the ground cashew nuts, stock cube and water in a blender. Add the contents of the blender to the onions and heat gently for 2-3 minutes stirring all the time. Return the mixture to the blender and blend until smooth. Re-heat the sauce gently, adding more water if a thinner consistency is desired.

This is good served with an Italian tomato salad and garlic bread.