Andreas Viestad's Vodka Marinated Sirloin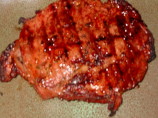 Photo by diner524
Prep Time: 72 hrs
Total Time: 73 hrs 15 mins
Servings: 8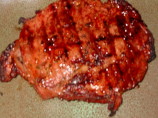 Photo by diner524
About This Recipe
"This was prepared on Andreas Viestad's cooking show, "New Scandinavian Cooking", and it's a bit different than you may expect of the cuisine... it's definitely more garlicky than I would have thought. And despite all the vodka, it's not boozy at all. In fact, I actually used aquavit in place of the vodka and it added even more interesting flavor. If you use a smaller roast, be sure to adjust the oven time accordingly; sirloin roast can go from perfect to too dry very quickly."
Ingredients
4 lbs boneless sirloin tip roast

1 tablespoon coarse sea salt

2 tablespoons crushed black peppercorns

3 tablespoons parsley, finely chopped

2 tablespoons fresh thyme, finely chopped

1 teaspoon fresh thyme, finely chopped

3 garlic cloves, crushed

1/3 cup grain vodka ( I used aquavit)

1/4 cup olive oil

2 tablespoons vegetable oil

4 tablespoons unsalted butter
Directions
Rub the roast with the salt and pepper and place in a plastic zipper bag. Add the parsley, 2 tablespoons of the thyme, and the garlic, then pour in the vodka and olive oil. Seal the bag and refrigerate for 2 to 3 days, turning the bag twice a day.

Before cooking, let the meat stand at room temperature for 1 or 2 hours.

Preheat the oven to 425 degrees F.

Remove the meat from the bag and reserve the marinade. Heat the vegetable oil in a large nonstick skillet over high heat and sear the roast on all sides, about 4 to 6 minutes.

Transfer the meat to a roasting pan and roast in the middle of the oven, turning once, for 1 to 1-1/4 hours or until a meat thermometer registers 130 degrees F; and before the roast is done, pour the reserved marinade over it (you can do it when you turn the roast over, as I did -- ).

When done, transfer the meat to a cutting board and let it rest, uncovered, for at least 20 minutes; set the roasting pan aside.

Just before serving, pour the cooking juices into a saucepan and heat gently. Stir in the butter, season with salt and pepper and the remaining 1 teaspoons thyme. Strain the sauce and discard the herbs.

Carve the roast and arrange on a platter with the sauce on the side.