Barley, Turkey and Butternut Squash Casserole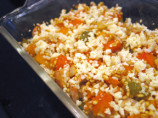 Photo by kelly in TO
Prep Time: 20 mins
Total Time: 1 hr 10 mins
Servings: 6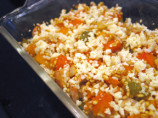 Photo by kelly in TO
About This Recipe
"Barley's nutty flavor goes well with onions, mushrooms, or peas. Butternut squash also is a good complement. This large, pear-shaped winter squash has sweet, orange flesh. With onion, green pepper and sage, you'll be glad you had turkey leftovers."
Ingredients
cooking spray

1/2 lb turkey breast, cooked, cubed or 1/2 lb diced turkey

2 small butternut squash

2 teaspoons olive oil

1 green bell pepper, seeded and diced

1/2 cup minced onion

1 teaspoon dried sage

fresh ground black pepper, to taste

2 cups reduced-sodium fat-free chicken broth

3/4 cup quick-cooking barley

1/2 cup feta cheese, crumbled
Directions
Preheat oven to 350 degrees.

Coat a 4-quart baking dish with cooking spray.

In a large pot of rapidly boiling water, boil squash halves 5 minutes or until not quite tender.

Drain.

When cool enough to handle, scoop flesh from each half and dice.

Set aside.

In a large saucepan, heat oil over medium heat.

Add green pepper, onion and diced squash.

Sauté 3 minutes.

Add sage and pepper and stir to coat.

Add broth and bring to a boil.

Add barley and return to boil.

Reduce heat to low, cover and cook 10 minutes, until barley is tender and liquid is absorbed.

Mix in diced turkey.

Transfer mixture to prepared baking dish and top with feta cheese.

Bake, uncovered, 30 minutes, or until cheese is golden.